104 Bartley Drive Townhomes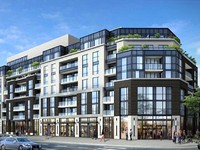 Rate this real estate project
104 Bartley Drive is a new townhouses development of 88 units currently in preconstruction.
Contact the sales office to find out the price.
Location of this project
104 Bartley Dr
North York (Toronto)
Humm!

Only COLLECTION™ Projects receive your questions. Fill out this form, for free support with our collaborating real estate brokers.

Contact the sales office of
104 Bartley Drive Townhomes